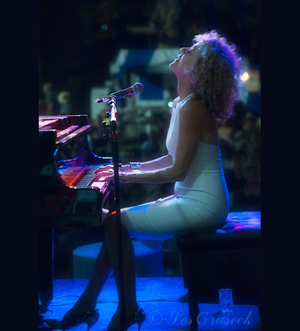 Steinway artist Judy Carmichael is a leading interpreter of stride piano and swing. Basie nicknamed her "Stride" because of her command of this demanding style. Her recording, Two-Handed Stride, with the Basie Orchestra's Red Callendar, Harold Jones, Freddie Green, and Marshall Royal, was nominated for a Grammy. A native of California, Carmichael moved to New York in the 1980s and has maintained a busy schedule, with tours of India, Portugal, Brazil and Singapore for the US Information Agency. She was the first jazz musician sponsored by the government to tour China. Judy has been featured on many television and radio programs, including Entertainment Tonight, A Prairie Home Companion, CBS Sunday Morning, and shows on the BBC, among others.
One of a handful of musicians who approach jazz from a perspective of its entire history, Judy explores the music deeply, infusing it with a "fresh, dynamic interpretation of her own" (Washington Post). The National Endowment for the Arts awarded her a major grant to present early greats on film and to discuss the history and development of jazz piano with college students across the country. 
Judy has written two books on stride and numerous articles on jazz. Her memoir, Swinger!  A Jazz Girl's Adventures From Hollywood To Harlem, is available in bookstores, at www.amazon.com, and at www.judycarmichael.com.  She produces Judy Carmichael's Jazz Inspired, carried by over 170 radio stations in North America and abroad and on SiriusXM. Her recordings and books are available at www.judycarmichael.com, on iTunes, and through C&D Productions, PO Box 360, Sag Harbor, NY, 11963.
Many festival attendees rate Judy Carmichael the artist they enjoy most and want to see again. There are two opportunities this year:  she will present a free Master Class on Stride Piano (preregistration required) on Saturday, Aug. 13; on Sunday, Aug. 14 she will perform at a ticketed concert at the Monroe Convention Center. 
Watch Judy Carmichael perform around the world
---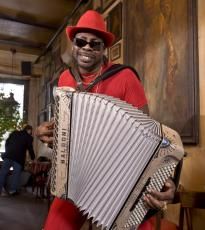 C.J. Chenier is Creole music royalty. Son of the legendary Clifton Chenier, who invented Zydeco and was the first Creole musician recognized with a Grammy Award, C.J. was raised in this indigenous American culture, with its distinctive language, cuisine, and music. C.J. delivers soulful vocals and jaw-dropping masterful accordion-driven Zydeco and blues.
After a childhood in tough housing projects in Port Arthur, Texas, C.J. joined his father's band on his 21st birthday.  His first gig was at the opening of  Antone's in Austin, TX. C.J.'s father showed him how to front a world-class touring band, teaching C.J., a multi-instrumentalist, how to turn his lifelong passion for music into a career. When Clifton died in 1987, C.J. adopted the Red Hot Louisiana Band and recorded his debut on Arhoolie Records.
Chenier and Ringo Starr were hand-picked by Paul Simon for Simon's 1990 Rhythm of the Saints album, nominated for Album of the Year and Producer of the Year.  C.J. was invited to tour with Simon. C.J. has played with John Mayall, Ray Parker, Jr., Joe Sample, Jimmie Vaughan, Sonny Landreth and Buckwheat Zydeco. He performs at festivals around the world and is a consistent crowd pleaser at The New Orleans Jazz and Heritage Festival.
Attending a C.J. show is a transformative experience. You may come in tired, but you will leave renewed and happy.  That's a promise C.J. makes: "You can't come to my show and stay unhappy. You're going to break a smile before too long. This is happy music."
C. J. will perform Sunday, Aug. 14, during a ticketed concert at the Monroe Convention Center. We welcome C. J. Chenier back to Bloomington Boogies!
---
Stephanie Trick & Paolo Alderighi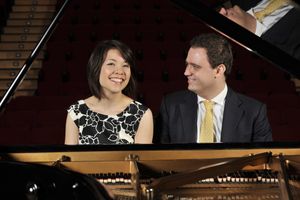 Classically trained Stephanie Trick began playing at age five. When exposed to early jazz, the syncopation and swinging rhythm piqued her interest, and it became clear she wanted to pursue stride and classic jazz. Her swinging approach is inspired by early stride pianists James P. Johnson, Fats Waller, and others, and she has a firm command of boogie woogie, ragtime, and blues. Stephanie has performed throughout the U.S. and Europe at many venues and festivals.  A serious student of classic jazz and stride, she has played with many celebrated musicians. One of those, the acclaimed pianist Paolo Alderighi, is now Stephanie's husband! Together they create fresh arrangements of songs from the Swing Era in a four-hands piano duo, and they have recorded several albums together.
Born in Milan, with a degree in piano from G. Verdi Conservatory, Paolo Alderighi is one of Italy's foremost jazz pianists. Paolo met Stephanie at a festival in Switzerland in 2008. Three years later they began to collaborate on a four-hands piano project dedicated to classic jazz, preparing arrangements of songs from the swing era while drawing from ragtime and blues. Following the release of their first album, Two for One (2012), they performed throughout the U.S., Europe, and Japan. A second CD, Sentimental Journey (2014), shows their commitment to four-hands duets on one piano, rarely used in jazz. Their partnership continued with Double Trio Live (2015) and Double Trio Always (2016), recorded in the piano trio setting, but with two pianists instead of one. In 2018, they released Broadway and More.
The Paolo Alderighi and Stephanie Trick Duo performs in a variety of venues around the world, including festivals and jazz clubs. 
Stephanie & Paolo will present a FREE Master Class and performance titled "How We Approach Jazz Piano" on Saturday, Aug. 13, at 4 p.m. at the Unitarian Universalist Church of Bloomington; this is open to 20 participants and 80 observers - you must register in advance - and they promise to each perform solo and together as a duo - something not to be missed!  They will also perform during a ticketed concert on Sunday, Aug. 14, at the Monroe Convention Center, and at Fairview and Templeton Elementary Schools on Monday, Aug. 15.  They will also present a free workshop after school at Templeton, "Boogie Woogie:  An Exploration" (register in advance).
Welcome back, Stephanie and Paolo!
Stephanie Trick and Paolo Alderighi - "Fun in Four-Hands"
---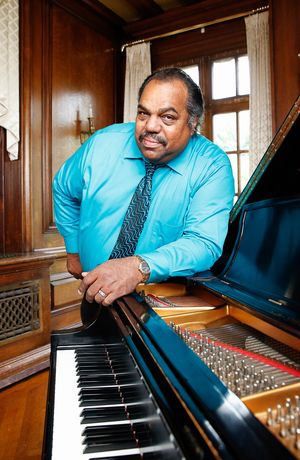 Daryl Davis, international recording artist, actor, and leader of The Daryl Davis Band, is one of the greatest blues, boogie woogie, and rock'n'roll pianists, having played with The Legendary Blues Band (formerly the Muddy Waters band) and Chuck Berry. As an actor, Daryl received rave reviews for his stage role in William Saroyan's The Time Of Your Life; his film and television roles include the critically acclaimed five-year HBO television series, The Wire. 
As a race-relations expert and activist, Daryl has received acclaim for his book, Klan-Destine Relationships, and his documentary, Accidental Courtesy, from CNN, NBC, Good Morning America, TLC, NPR,The Washington Post, and others. Daryl's impassioned lectures are filled with exciting encounters and sometimes amusing anecdotes, and he leaves an audience feeling empowered to confront their own prejudices and overcome their fears.
Daryl Davis will perform Aug. 13 at 11 a.m. during WFHB's "Saturday's Child" at the Monroe County History Center; during a ticketed concert Sunday, Aug. 14, at the Monroe Convention Center; and at Tri-North Middle School on Monday, Aug. 15. Daryl will also give a public presentation after school at Tri-North titled "Boogie-Woogie in Early Rock & Roll" (preregistration required.)
In addition to his musical performances and presentation, Daryl will present "The Klan Whisperer: Lecture & Q and A on Race Relations" at The FAR Center for Contemporary Arts, Saturday, Aug. 13, 2022; doors open at 4:30 p.m., program begins at 5 p.m. For information about this program, click here.
We welcome Daryl Davis to his second Bloomington Boogies!
---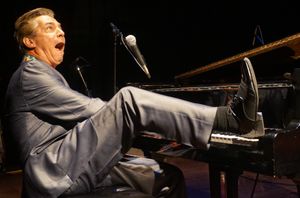 "Boss of the Boogie" piano man/vocalist Rob Rio plays boogie-woogie and jump blues of the 40s and 50s with a virtuosity and elan that has excited audiences around the world for more than 35 years. Inducted into the Boogie Woogie Hall of Fame in 2008, he has appeared with blues greats Muddy Waters, Willie Dixon, James Cotton, Charles Brown, Joe Cocker, Paul Butterfield and many more, and recorded with Mick Jagger, Canned Heat, Billy Boy Arnold, William Clarke, and Coco Montoya, among others.
Born and raised in the Bronx, Rio resides in Los Angeles and continues to perform at festivals, events and clubs nationally and internationally. During the Covid-19 pandemic, Rio continued to write and record, releasing the viral hit "Rona Virus Blues" in March, 2020. He has been a favorite throughout the South for 30 years, performing solo or with his band, The Revolvers. Rob's main influences include Otis Spann, Memphis Slim, Albert Ammons, Pete Johnson, Meade Lux Lewis, Jimmy Yancy, Roosevelt Sykes, Oscar Peterson, Errol Garner, and Ray Charles.
A crowd and musician favorite, Rob will help perform Saturday evening, Aug. 13 at Cardinal Spirits, Sunday, Aug. 14 at a ticketed concert at the Monroe Convention Center, and Monday, Aug. 15 at Tri-North Middle School.
We welcome Rob Rio to his third Bloomington Boogies!
---